What is Myshakespeare?
Students are forced to learn Shakespeare. But how many of them actually understand his art?
​
Meet MyShakespeare, a modern interactive tool filled with videos and translations for young students.
​
​
My Role
MyShakespeare desperately needed a landing page redesign for their upcoming Teacher's Conference - the largest networking event to showcase the latest tools for teachers. I worked very closely with other designers and PMs to get this show on the road.
Specific Problem
The company had 30 seconds to pitch to teachers why they should be using their product. While most teachers showed interest, their last website was just not cutting it. It didn't showcase why these tools were so unique.
​
With a deadline of just two weeks, I sought out to make a design that was not only intuitive, but a no brainer when it comes to choosing the best Shakespeare learning tool.
Understanding Users
The old landing page were targeting students. The new landing page had a new target user: teachers. MyShakespeare's competition is high, and they only had a few minutes to convince teachers what they offer and how it will streamline their teaching.
​
Questions:
1. What problems do teachers have when teaching Shakespeare?
2. What is the number one problem they see for students?
Iterations
I tested a few rounds and presented them internally to designers and PMs. Using their feedback, I realized one of them stood out the best.
Design Revelation
I received information that this specific group of teachers did not scroll to the end of the page, so I needed to place as much information as possible, as short as possible.
​
Inspired by Slack.com's landing page, I unveiled a snippet of all the tools using javascript's interaction.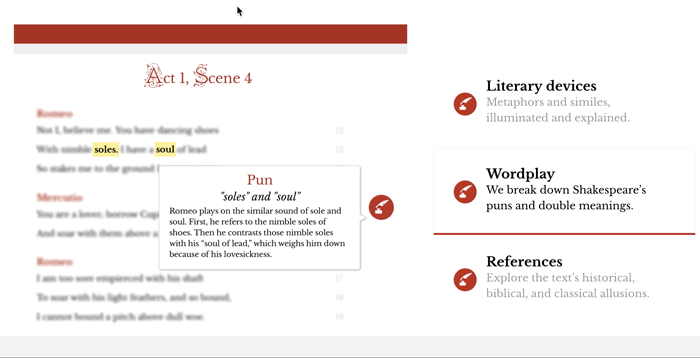 Putting it all together
After addressing all of the concerns of the client, I presented them with what I believed to be their best website yet. For a constantly shifting client, they were blown away! So we went right into the development process.
Style Guide
I put together a style guide to help maintain the look, feel, and vision of the company.
Final Thoughts
1. Understand the user's pain points will help drive the entire design.
2. Addressing the client's concerns is 50% of the design. Defend you design while being open to new ideas.